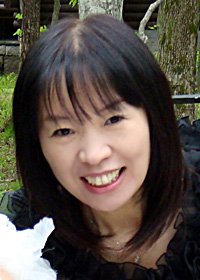 It is unbearable for me to think that you have thoughts but cannot communicate to others, even for as short as one second.
Katsuko Yamamoto, Author, and Teacher at the Special Needs School
I have worked in special needs schools for a long time. Consequently I have learnt through my children with special needs that, even if one looks unconscious, everyone has feelings and thoughts. And what is more, they can hear, see, and understand everything.
Another thing they have taught me is that the human body and brain have tremendous powers of recovery. If you do not give up, communication is possible and they will be able to recover. I think it is very true.
However, I am afraid that it is not common knowledge in our society.
It is unbearable for me to think that some patients cannot communicate, and have to give up the recovery process, only because the carers do not have the information and know how.
Please let as many people as possible know about "The Snow White Project". I wish from the bottom of my heart for everyone to keep smiling.
Katsuko Yamamoto
Profile of Katsuko Yamamoto
She was born in Kanazawa in 1957. After graduating from the Chemistry Department, Faculty of Science, University of Toyama, she has been working at special needs schools in Ishikawa Prefecture.
The message, in her books and talks, is filled with love and affection, and is spreading through out Japan. It touched not only children's hearts but also adults who had been closing their hearts and minds. It also worked wonders to these people who have opened their hearts. The documentary film "The Miracle of the Gifted Quarter – Life's Truth Revealed -" is the film about her activities. This film has been shown by volunteers in more than 1000 places including 14 different countries so far. She is creating warm relationships with readers of the mail magazine called "Miyapu Diary – the Bridge Between Our Hearts" which is sent to the readers every day.
Her publications from Sango Kan (Publisher) are "Honto no Koto Dakara (Because it is the Truth)", "Yuuki-kun no Umi (Little Boy Yuuki's Ocean)", "Majo Mona no Monogatari (The Story of Mona the Witch)"; from Arisu Kan (Publisher) "Kii-chan (Kii-chan)"; from Sunmark Shuppan (Publisher) "Te o Tsunageba Atatakai (When You are Connected, it is Warm)"; and many more.
Website:
Tanpopo no Nakamatachi
http://www005.upp.so-net.ne.jp/kakko/
Ichijikurin
http://itijikurin.blog65.fc2.com/
Book Log for Katsuko Yamamoto
http://booklog.jp/users/itijikurin
Documentary Film:
"The Miracle of the Gifted Quarter – Life's Truth Revealed -" (Distributor: Heart of Miracle)
"The Universal Principle - How everything is created in love -" (Distributor: Heart of Miracle)